Mikkeller Brewing NYC at Citi Field
When Dan Bernstein, architect at www.kbanyc.com reached out to us in the fall of 2017 about possibly doing a brewery at Citi Field, our jaws dropped. Where do we sign up? Not only are we a family of generational Mets fans, but avid craft beer lovers as well. I had only seen Mikkeller at a few select places before this project, but it usually made an appearance at high-end restaurants and select craft beer bars. It turns out it's one of those brands that is a must get when you see it on the menu. Mikkeller has upwards of 30 locations worldwide, from Asia and Europe to San Diego. The distance and cost of keeping it fresh probably prevented it from flooding the East Coast. But that is all about to change now that they have opened a 10,000 square foot location in Citi Field.
We went down to the grand opening yesterday, and were blessed by the Mikkeller staff to get VIP passes, which meant free food and beer all day. They had 60 taps flowing from Ales to Sours, IPA's to Stouts and everything in between. Even the fruity beers which I'm not usually a big fan of were out of this world. They also offered some beer from other famous brewing companies including www.bissellbrothers.com and Industrial Arts. I could probably write about the beer and the food all day (they passed around Bahn Mi's and burgers, fries and tator tots, everything cooked to perfection) but I should probably mention our woodworking too.
The scope of this project was large, but not unfamiliar territory. There were multiple areas that we were responsible for. Let's start with the most sexy, the Bar itself.
The bar area consists of a 30 foot bar top then then turns to make an L shape, which incorporates a lower section for ADA accessibility. The two inch thick bar top is made of White oak with an extremely durable matte lacquer finish. Underneath the bar on the customer side we put a full length groove to house a plug strip for charging phones, and on the bar side the same groove holds an LED light strip to brighten up the work space for the bartenders. The face of the bar is board and batten. The battens are solid Poplar and we painted these with a durable oil based paint (shoutout to Sherwin Williams in Newburgh for always being on point with the best paint in the area). Surrounding the main bar is another 30 foot drink rail, same board and batten and Oak top. These details are also matched on other walls throughout the brewery including the one that guards the extremely impressive stainless steel vats. Above the bar is a really cool trellis, again in White Oak, about 25 feet in length. This architectural element not only creates a nice atmosphere while sitting at the bar but also houses various Edison bulbs which set the mood. Behind the bar is a stainless steel grid that houses 60 removable (by magnets) chalkboard tabs to list all of the fine beer. To keep a clean look, we used a water jet to cut out the grid from a large piece of 1/4 inch stainless, thus having no messy welds to contend with. Check out this picture below to get a sense of the various details.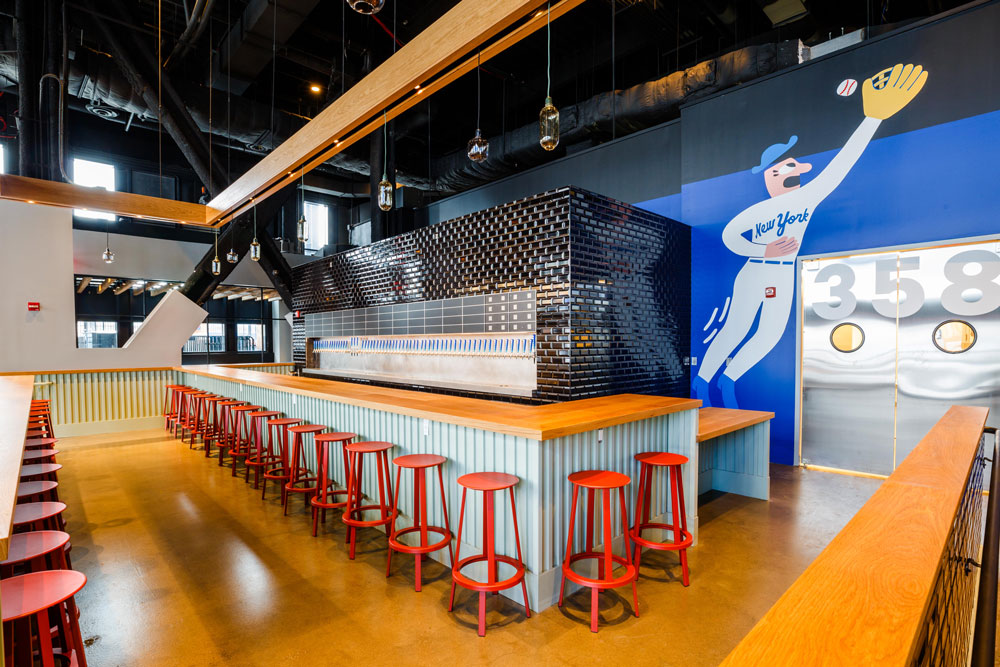 The most intense part of this job for us as fabricators was making the 18 picnic style tables and the 36 benches that go with them. The designer chose to go with a thick veneer, 1/16 of an inch, for all the flat surfaces. The choice to go with a creamy veneer is beneficial for a couple of reasons. It keeps the furniture stable and flat over time. It also has a very simple and clean look which fits the brand of this Danish born brewery. But by choosing veneer we had to protect all the edges with solid Birch. All table edges and legs, as well benches and bench legs, have solid Birch edging. This detail creates a strong and durable shell for these beautiful pieces.
The brewery has a modern feel, light and bright, so the client provided us with four colors and asked us to paint stripes on the furniture. They chose white, pink, orange and green. To achieve this detail we used Frog tape and carefully masked off the sections to be painted. We then thinned out the paint and brushed it on to give it a smooth finish. The entire piece was then finished with the same finish as the bar top, matte lacquer. All of the bench and table parts were assembled using mortise and tenons, wood glue, and thick screws for extra strength.


Overall this project was a great success. We thoroughly enjoyed participating in bringing this brewery to fruition and made many great friends along the way. We were really impressed with the beer and the service, solidifying Mikkeller NYC as a destination all year round for us here at Trinity. Here is one last shot of Jeff, Donald, Meghan and Dan. The builders and the architects.

Your friends,
Trinity Woodworking